Lifting: Squat Snatches and Overhead Squats
Squat Snatch 1-1-1-1-1, using heaviest weight per set
Overhead Squat 1-1-1-1-1, using heaviest weight per set
* 1 Snatch (squat) + 1 OHS each set
7 RFT: Power Snatches, Snatch Balances and Overhead Squats
7 rounds for time of:
7 Power Snatches (95#/65#)
7 Snatch Balances (95#/65#)
7 Overhead Squats (95#/65#)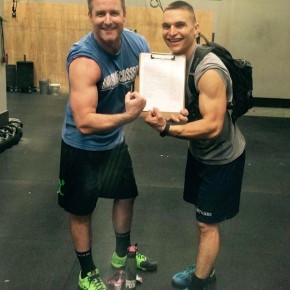 Congrats to both Peter and Brett for breezing through the Advanced RX Test last night! They made it look easy and even knocked out some curls after.
Events:
Monday 12/7:
Northwest Fit Meals will be at the gym from 5pm to 7:30pm on Monday 12/7. They are a local meal Prep company that preps Paleo and clean meals for CrossFit athletes, as well as for bodybuilders and NFL athletes. They also currently sponsor Jules.
NW Fit Meals will come with some of their favorite entrees and you can come and taste the food before or after class (or during if you aren't going to do the WOD). They offer a weekly subscription service. They make their own ghee butter, dressings, mayo, Sriracha, sausage, everything that goes into their meals. All meals are pre measures to 3 Zone blocks.
Menu:
Paleo Italian meatballs and scratch made marinara with spaghetti squash
Paleo turkey chilli
Cilantro lime yams
Paleo chicken salad