Main Class – In Teams of 3 you have 20 Minutes to complete:
2000 meter row and 400 Double-unders
* One person can be on the rower and one person working on double-unders at the same time 
After completing the row and double-unders, with the time remaining:
Complete as many Overhead Squats (75#/55#) as possible
* One person working at a time
Score is Total Reps of Overhead Squats
Advanced RX Class: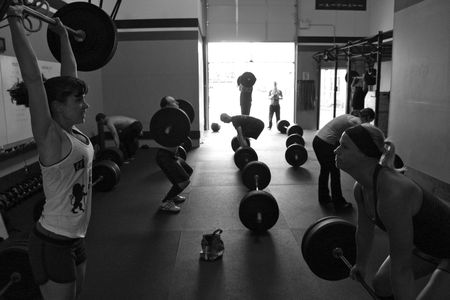 AMRAP (As Many Rounds As Possible) in 5 Minutes:
3 Deadlift (275#/185#)
7 Push Press (115#/75#)
Rest 2 Minutes, then complete:
100 Double-Unders for time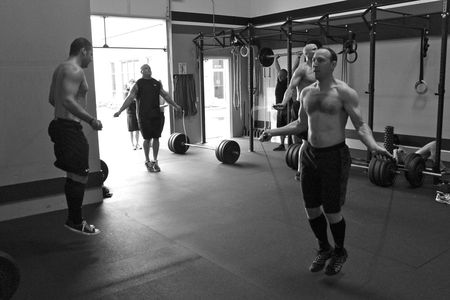 Results
View this photo
View this photo
When Don started CrossFit over a year ago he said one of his main goals was to be a better basketball player and that when he dunked a basketball he was gonna quit. Well not only is he an awesome CrossFitter and better basketball player a year plus later, he just dunked a basketball last week! CrossFit works! Lucky for us he isn't quitting.
Don deadlifts and looks yoked: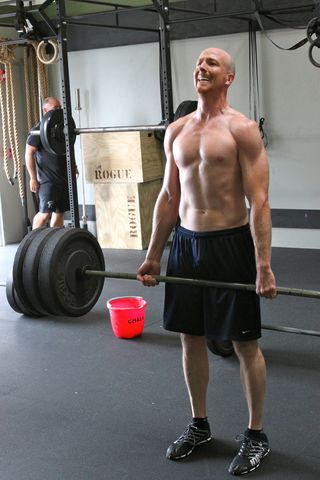 Today there was a new rule for CrossFit Kids…"Freestyle!" When a coach yells "freestyle" the kids stop the WOD and start dancing. However they want to dance until the coach yells "WOD". Then it's back to the workout. Either way it's still playtime. We are also extending this rule to the adult WOD's so be prepared…
"All Over The Map: Burke, Dever and Olson" by Again Faster Equipment – video [wmv] [mov]
"Cooking With Nick Massie: Kalua Pork", CrossFit Journal preview video [wmv] [mov]