Push Press 3-3-3-3
Push Press 3-3-3-3
Use the heaviest weight you can for each set.
Rest as needed between sets.
10-9-8-7-6-5-4-3-2-1: Handstand Push-ups, Box Jump Overs and Runs
10-9-8-7-6-5-4-3-2-1 reps, for time of:
Handstand Push-up
Box Jump Over (24″/20″)
Run 200m
BTWB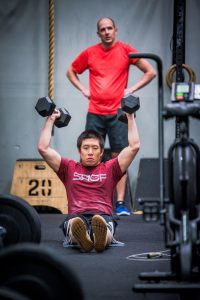 Photo by @robcwilson
Wodapalooza Gathers the Best CrossFitters for Annual Miami Festival
This Sanctional is a big one.  In addition to Games invites for top team, man and woman, there is a total prize purse of $400,000 for the top-ten finishers for elite individuals and team divisions. Expect the usual big names battling it out with some new formats or movements thrown in.