Skill: Handstand Push-up Practice
Handstand Push-up progression & practice
This is not a timed workout.
* Practice pike push-ups, box pikes, or handstands. Work on holds or negatives against a wall.
* Alternate focus: Work on HS walks or freestanding HS Holds
40-30-20-10: Dumbbell Snatches and Box Jumps
40-30-20-10 reps, for time of:
Dumbbell Snatch, pick load
Box Jump (24″/20″)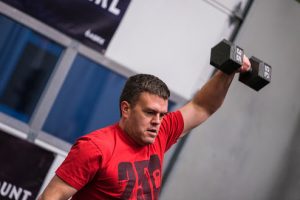 Photo by @robcwilson
How cool is this?  When this is over you can sign up for a Spartan Race for free!
Spartan Race To Support Gyms Worldwide
How it works:
Anyone still paying fees to their gym or affiliate is eligible to enter any Spartan Race, Tough Mudder or DEKAFIT event in the 2020/2021 race season, free of charge. Most races usually cost upward of $100 USD.
To start the process, check out the Spartan Gym Protection Project online. It can take up to a week to get verified and athletes must register by June 6.
Breaking: CrossFit Games Focused On Holding Event At The Ranch, Virtual Options