CrossFit Games Open 18.1
Complete as many rounds as possible in 20 mins of:
8 Toes-to-bars
10 Dumbbell Hang Clean & Jerks (50#/35#)
14/12 Row Calories (M/W)
* DO NOT DROP DB. Athlete must complete 5 clean and jerks on one arm, then 5 on the other arm. Hang PC must make contact at shoulder before going overhead.
CrossFit Games Open 18.1 – Scaled
Complete as many rounds as possible in 20 mins of:
8 Hanging Knee Raises
10 Dumbbell Hang Clean & Jerks (35#/20#)
14/12 Row Calories (M/W)
Photos by @robcwilson
Wow what a last minute surge in registrations and an awesome turnout today!
CF Games Open Team SnoRidge CrossFit Roster Count: 47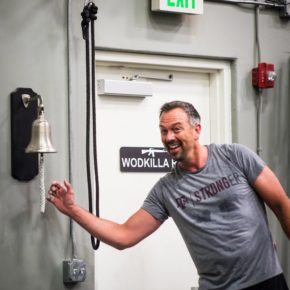 Tonight our annual Friday Night Lights returned with a 20 minute motor test of grip and grind. So much fun having a packed gym full of positive energy with everyone pitching in, pushing each other and being ready to go. For those who are registered make sure you enter your score NLT Monday at 5pm either through the CF Games App or online through the Games site.  If you are late with your score it won't count so don't miss the deadline.  Any issues let me know immediately!
Congrats to anyone who PR'd something in 18.1.  Tom L. got his first T2B and then was able to RX the whole WOD and power through a bunch of rounds and ring that bell.  That is the best part of the Open for us, seeing people get to ring the bell by pushing to try something they otherwise might not have tried.
If you were unable to complete this workout today then Monday is your makeup day in any class so long as you complete it and enter your score NLT 5pm!  Don't delay until the last minute.
18.1 Recap: The Engine From England
Results Open 18.1 Registered Athletes