EMOM for 7 mins: Squat Cleans, Hang Squat Cleans and Jerks
Every 1 min for 7 mins do:
1 Squat Clean, pick load
1 Hang Squat Clean, pick load
2 Jerks, pick load
Split or Push. Perform as a complex.
FT: Rows; Front Squats, Push Press, AbMat Sit-ups
For time:
Row 1000m
— then —
27 Front Squats (95#/65#)
27 Push Press (95#/65#)
27 AbMat Sit-ups
21 Front Squats
21 Push Press
21 AbMat Sit-ups
15 Front Squats
15 Push Press
15 AbMat Sit-ups
Photo by @robcwilson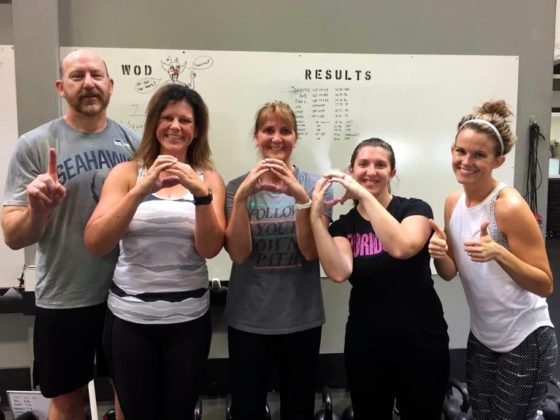 We want to send Kristy (above center) a huge congratulations for completing her 1000th WOD at SnoRidge CrossFit!  That's right, 1000! That's dedication, consistency, and an amazing track record. Thanks for sticking with us.
Saturday is our Frankenchipper, make sure you have a costume for the WOD!
Events:
The 8th annual "Frankenchipper" is coming!
When: 10/22 Saturday at 9:30am (we will run waves)
What: Our favorite WOD and SRCF tradition of the year. This SRCF annual tradition is the costume-required "Frankenchipper"! This workout is a combination of benchmark "Girls" WOD's. Like Frankenstein the 2.0 version is a mash-up of "Fran", "Angie", "Kelly" and "Eva". One of our favorite gym traditions is to see everyone in costume trying to work through a workout that is tougher than it looks. This WOD is a quick gasser that's light but challenging.
Frankenchipper 2.0:
For time:
Run 800m
30 Kettlebell Swings (53#/35#)
21 Thrusters (75#/55#)
21 Pull-ups
50 Push-ups
50 Air Squats
30 Box Jumps (24″/20″)
30 Wall Balls (20#/14#)
The Team Series is final and after several teams were assessed penalties the top teams were re-ranked.
Reebok Reunited Wins 2016 Team Series